Heyo all~~
Today's featured Otaku is Ikemarth, or Ike, as I usually call her.
Ike is another one of theO's talented mult-artists, excelling in her fan arts, but also ecards, iwallies, and wallies too. All of her works are stunning, and have been carefully thought through, to make is look the best possible. Her ecards are really my favourite, because they're so unique and amazing looking every time! X3
I've learned a lot from Ike, and I know I have a lot more to look forward too~ Ike is also a very friendly person, so don't be afraid to get some well valued tips from her! ;D She's a great friend I'm fortunate to have met on theO!
And now to see some of her lovely works!
1. A really colourful wallie. The typo and effects are simply gorgeous! Titled [Drowning]
2. This iwallie will lighten up your iphone! X3 Titled 24/hours it is simply one of my favourite iwallies of all time~
3. All of her fan arts astound me, but I found this one to be super amazing! Titled For You <3 *__*
4. An amazing ecard titled [NIGHTWISH]...it has Itachi in it...need I say more? XD
My personal favourite: [Hummingbird Heartbeat]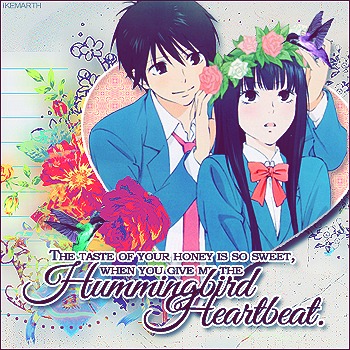 If you haven't subbed to her, you don't know what you're missing! So take a moment to stay tuned to her beautiful creations~
If you know an Otaku who has talent and deserves more recognition, please send me a PM to post them in my world!