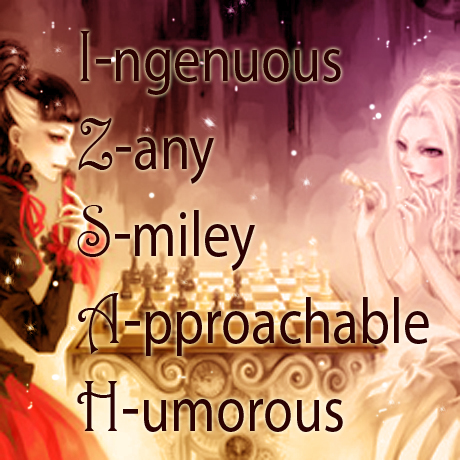 ♣ I'm just an ordinary person, nothing special
♣ graduate with a Bachelor's Degree in Industrial Psychology, [March 2010]
♣ Class Treasurer since high school up to college
♣ Asian girl
♣ black-haired & always in shoulder length, brown eyes, fair complexion.. Yeah! I'm pretty (I believe) but not in all angles
♣ 5'2" in height & weigh only 90 lbs
♣ Roman Catholic is my religion
♣ a homebody
♣ living a simple life
♣ quite conservative and practical
♣ likes analyzing things & observing people or anything
♣ obsessive-compulsive nature
♣ black sheep in the family
♣ drawing is my first love
♣ loves reading pocketbooks,romantic novels, fairy tales & any books that caught my interest like manga
♣ I love internet surfing so much! Unfortunately, I don't have computer so I have to rent at internet cafe. If I have no money, I'm offline.
♣ I daydream & fantasize a lot
♣ Ooops.. I'm sentimental
♣ interested in badminton, biking,chess & sudoku
♣ am very fascinated with belly dancing, & pole dancing
♣ bookstores, DVD stores & internet cafe are my favorite places
♣ copper & crimson are my favorite colors. I like also brown,orange & green
♣ languages: Tagalog & English
♣ I dislike hostile & unsmiling people
♣ I don't make promises as much as possible. I only have one word
♣ registered here 2005, only for the sake of downloading wallpapers, & left my account empty for almost 4 years. But I returned 2009 & started to post my own artworks too
♣ I love my theotaku account so much!
♣ addict with anime! I get so high! It makes me crazy, alive... and inspired
♣ I watched anime most on TV & they were always translated in our language so I'm not exposed that much in japanese language.. Ja ne!