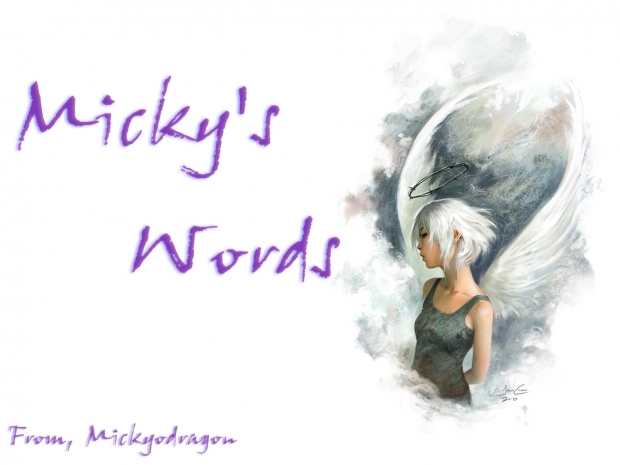 Welcome to Micky's Words
This is the place where I just put random quotes from my self. I sometimes put some story ideas as well. Most of the time I am rambling though.
But first If I am not to bold, I would like to tell you all a little about my self.
Name: It comes from the Hebrew name for grace.
Age: 21 (wow I am getting old)
Gender: Female
Birthday: April,25 1990
Lives: America, In the state of New York. And No I do not live in New York City. I live in New York, the woods and hills. (its a great place to live)
Likes: Art (all forms), Classical music from all over the world(mostly piano,and violin, and soundtracks), Stories(movies,games,comics...), Hanging out with my best friends.
Dislikes: ... . I don't think I really hate anything worse then my own stupidity, and laziness. I get frustrated with people of course(who doesn't), but I wont hate them for it.
Favorite Anime: Fruits Basket,FULLMETAL ALCHEMIST, KAICHOU WA MAID-SAMA!, VAMPIRE KNIGHT, Xam'd: Lost Memories,Ouran High School Host Club,Nabari no Oh,Code Geass,Death Note.
Anime Movies:5 Centimeters per Second, Final Fantisy VII AC, and all of Hayao Miyazaki's Films.
Manga: All those, and way more. (so I shall spare you)
I am Also On Devian art. If I can't get something up here I will have it there. http://mickyodragon.deviantart.com/