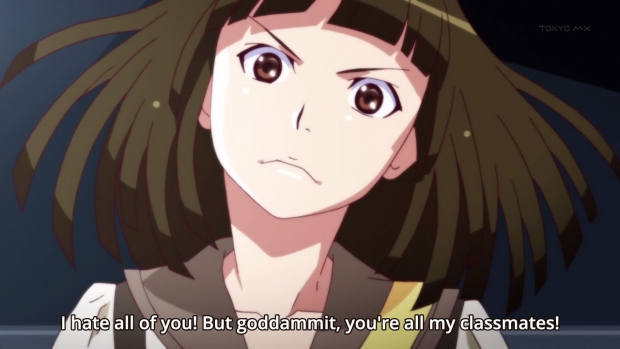 More dreams about change. I'm not really sure if these ones are okay to post...so I'll put the things that may be a trigger to some, and just plain inappropriate/out of line to others in spoilers. I'll try not to go too into detail, but you have been warned. If you feel that I've crossed the line at any point in this post, tell me, and I'll either edit out the parts you felt were too much, or delete the post altogether. After all, I'm only posting these to vent...and possible seek help from anyone who knows what they mean.
Alright. With that in mind, let's move on.
Tuesday night: This dream is a little bit...harder to describe that the one I had Wednesday night, since it's more abstract. But I'll try my best. Basically, for whatever reason, my older sister and I were sent to this experiment facility. Or at least, that's what I think it was. It seemed to be designed at first to test how well we could deal with certain situations. But later on turned into some...jail/military school...? I'm not really sure which one it was. It had the attitude and atmosphere of a jail...but I think it was just a really harsh military school/private school. Anyways, my sister and I (unsurprisingly) hated it. It tortured it's "students" and all the "teachers" almost never showed their faces, and when they did, were too far away for any of us to tackle them and escape. It was full of stupid rules, and...was sorta like SAW, actually. Except it had an entirely white and modern demeanor, like it was an airport full of Apple products or something. Anyways, for the first half of the dream, my sister and I were lucky enough to have a very nice teacher. We still disliked him for being "stern" though, because we didn't know any better. I can't really remember most of it. Most of it just consisted of random modernized tests, like we were lab rats or something. My older sister and I grew tired of it, and had an epic escape. My sister ran out, but right when I was about to, I ran into my teacher. I tried to appear strong and determined, but it was really just bravado. I thought he was going to turn me in, but he instead just sighed, gave me a few of his books, and said he was going to miss me. I nodded, touched, gave him a hug, and ran away to meet up with my sister. Then...things became dark. As I learned the truth of this place that I once thought was just...Well, not as bad as it really turned out to be.
I was sent back there for a second time. Don't ask why, I have no idea. But this time...that teacher wasn't there. I think he was fired, or he quit. I can't remember which. So instead...my sister and I got this absolute asshole for a teacher. We thought we hated that other guy...turned out we didn't even know what hate was. The other guy was just stern, this guy was a sexist pig who abused his power, which...turned out to be what every other "teacher" (except for the one who quit) there was like. I'm...just going to get right to it. These bastards turned out to be sexually abusingtheir female students as punishment. Now, I noticed this was going on a little the last time I was there. But I only suspected it, I never knew it was actually going on. Nonetheless, I pretended to be a boy just in case. I told my sister to do the same, but she didn't believe me. So we were separated, as I slept in the boys dormitory, and she slept in the girls. My disguise (Unsurprisingly. Even in real life, I kinda look like a boy.) worked for quite some time, but I was soon found out when I tried to save one of my fellow classmates during one of the experiments. So, for lying to my "higher ups" I had to be punished along with 2 other female students who were on my side. They took the three of us to the restroom, where the other two girls with were forced to perform sexual acts on each other but I was just kinda...left alone, I think? I mean, it wasn't like I was ignored. (Though I would've preferred that) In fact, my teacher wasn't even looking at them. He was just staring into the distance with this weird blank expression. It was creepy, to say the least. Even when I exited the stall, he didn't say anything. So I just left. Just like that. Just took my sister's hand and left the building, left the experiments, left everything. And they didn't say a word. It was like some kinda weird glitch in a game where all the NPCs forget what to do. The nightmare ended when we left for good.
And...That's it, really. I don't feel AS sick anymore (though I know that dream would say otherwise) because I'm actually making some progress on my game. So I don't feel as useless. Only 30% dead now. And that's mainly just physical sickness. So it's not as bad. I'd post the dream I had last night, but this post is long enough as it is. And I can't really remember much of it, honestly. Aside from the fact that my older sister and I were at some weird amusement park haunted mansion, and I spoke to an old friend of mine. Most of it was spent in a poorly built, run down unisex restroom, though. It was kinda funny, humiliating, and insightful all at the same time, really. Which I know sounds weird. But I just kinda sat there on a toilet behind a wall that barely covered my stall, and spoke to whoever came in about random shit. (pun intended)
It's just odd how many dreams I've been having lately, I guess. Or how vividly I remember them I suppose would be a better way of putting it. Normally I'd be lucky to have a dream and remember it this vividly once every few months. But now I can't get away from the damn things. It's kinda cool and scary at the same time. Scary because most of them are nightmares, cool because I love dreaming, and some really insightful things happen in them lately. Like the discussion I had with my old friend, the relationship my older sister and I had with our old teacher (the nice one)....I dunno, it's interesting. But it does sort of frighten me that...erm...sexual assault is appearing in them now so often. That's never happened before.
Again, I apologize if this post made you feel awkward or offended. If you happen to know anything about dreams, I would really appreciate it if you could tell me what some of these things may mean. I've done a bit of research myself, but I'd like to hear some other perspectives on it. Because, I mean, come one, sitting on a toilet talking to strangers must mean SOMETHING MEANINGFUL.
...Or it could just mean I should lay off the Dr. Pepper. :P