My favorite villian ever is Lord Admiral Galcian from Skies of Arcadia. Glacian isn't like most villains, he wasn't turned evil, he was born that way. Glacian's ambitions never changed, he only understands one thing, power.
Galcian believes in power, nothing else, in his eyes the only purpose for the weak is to serve the strong. Galcian respects power, In the game, 2nd Admiral Gregorio, tries to fend off Galcian while the main protagonists make an escape. It was a futile effort because, Galcian kills him. As Galican's men come to remove Gregorio's body Galcian tells them "take good care of his body; it's worth more than your life."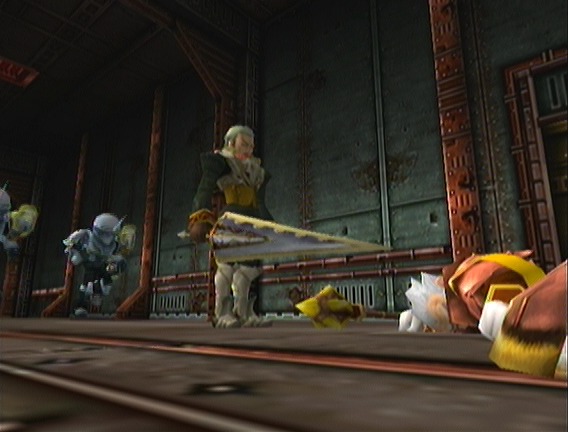 There are only three admirals Galcian has any respect for what so ever, 2nd admiral Gregorio, 3rd admiral Vigoro, and 6th admiral Ramirez, also know as his former vice-captain. Ramirez is the only one he truly respect, treating him as a son. Galcian taught Ramirez the hardest lesson he ever had to learn, the people you trust the most will betray you. After Ramirez found out what Galcian said was the truth, Galcian told Ramirez that the only he wants is power and he will do anything to get it. Galcian seen no reason to lie about his intentions. The shock to Ramirez was so great, it inspired eternal loyalty to Galcian.
Galcian commands respect all that oppose are crushed. Galcian raises a lost continent with a super weapon on it. To show the world he is not joking he uses the rains of destruction(a.k.a armageddon) on the country he was born in, he uses his own country's destruction as an example, to show all the other countries what will happen if they try and oppose him.
The fact is determined to get what he wants and not let anyone stand in the way, makes me respect him. There is also the fact that he doesn't have to be pushed to become evil, like other villains, and also that he wants to rule the world instead of destroying it. Also if you prove yourself to be a worthy opponent, you will earn his respect, even if you don't defeat him.
The most predominant reason is because he reminds me of myself in combat, ruthless, clever, manipulative, and very efficient.