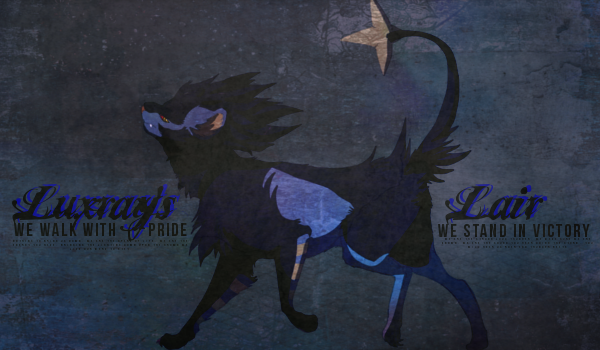 Yo! Welcome to the Luxray Lair!
Lux: Hey there ladies and gents! My name is Lux and I'm a Luxray Gijinka if you couldn't tell already. Anyway, it's a pleasure to meet you ladies *winks*. Also to the other dudes out there, its nice to meet cha! Moving on, feel free to hang around here and look around since this is my own little world.
Xio: Did you forget that I am here as well Luxy-boy? Indeed you did, so let me introduce myself. *bows* My name is Xio and I am also a Luxray as well but a dark one. I am pleased to meet you and I hope you enjoy yourselves in "our" world.
Lux: Yeah yeah! "Our" world but nevertheless everyone, please make yourself at home since we both will be making frequent updates here. Later all!
-Xio & Lux-
~coming soon~
Both of the Luxrays
Lux The Luxray: The Lovable Nerd Jock
Lux's Profile
Lux's English Voices
Lux's Japanese Voices
Pictures of Lux
Relationship Chart
How to Roleplay Lux
Xio The Dark Luxray: The Sadistic Conniving Gentleman
Xio's Profile
Xio's English Voices
Xio's Japanese Voices
Pictures of Xio
Relationship Chart
How to Roleplay Xio
Want to Join the Roleplay? Become part of Pokemon Gijinka Revolution!