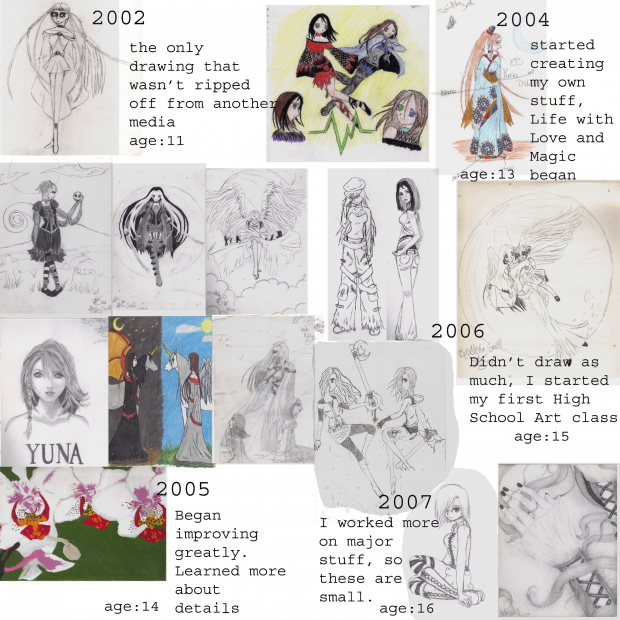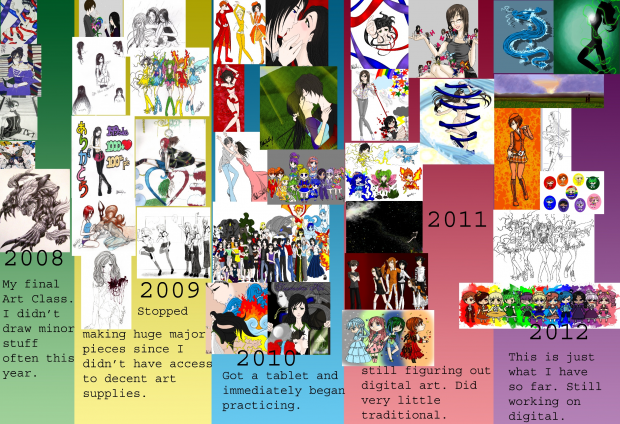 Before I start, if you want a better view here are the links:
p1: http://tsumetai-hi.deviantart.com/#/d5885i1
p2: http://tsumetai-hi.deviantart.com/#/d588q7g
So. This is an Art Improvement from 2002 to now.
Honestly, from 2002 to 2008 I see BIG improvement all over. However, from 2009 to 2012, I don't see much improvement as a whole. BUT. I see gradual improvement from 2010 to 2012 in Digital work. I am still fairly new and not quite skilled at it yet, so I hope I start seeing more improvement over the rest of this year.
So I created these after rummaging in my huge tub of drawings I have. It was EXTREMELY nostalgic and OMG did my eyes burn at some of the stuff….anyways, here are my comments on every year.
2002- It's the only drawing I found that wasn't a ripoff of something else. most of my drawings at the time were fanart, and so called "original creations" that weren't original at all >.> I was 11.
2003-Either I didn't draw, or I never did date my work that year because I couldn't find anything. I was 12.
2004- Began doing my own work. My first manga, Life with Love and Magic, was created. The first picture is late 04 showing the female characters of LWLAM. the second is of a a girl in a kimono for a project, and she is from early 04. I see a big difference in the two. I was 13.
2005- I began improving greatly, paying more attention to details compared to the previous years. Tested out different styles and began improving in fanart. I was 14.
2006- I don't know what happened here. My minor work wasn't as good. I began my first high school art class this year. I couldn't scan any of the major projects because of their size. I was 15.
2007- I continued in another art class, and I focused more on major projects than small drawings. They couldn't be scanned as well, so these are the only one's I could find in my sketchbooks. I was 16.
2008-I had my final art class this year. I didn't draw much small minor work. I was 17.
2009- I worked less with large elaborate projects due to lack of decent art supplies. I used crayola colored pencils and a mechanical pencil all throughout this year. I was 18.
2010- I got a tablet and software. I immediately began practicing digital art. I was 19.
2011- I was still figuring out Digital art. I did very little traditional works. I was 20.
2012- This is all I have so far. I am still practicing in digital. Currently I am working on a major project Traditionally, and i hope to finish it soon. I'm 21 this year.
Thanks for reading and viewing :) Do you think I have improved well over the years?