So~ anyone keeping up with my works (ha ha, who would that be?)
should know My chara Dreschen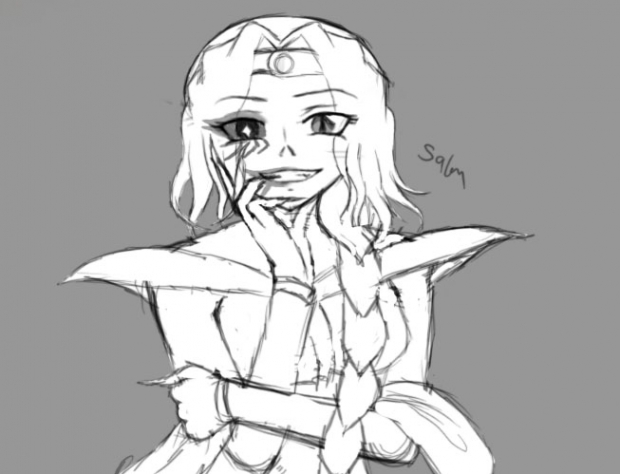 She is a monster made by a being called the dead god. It's not really a she so to say. No reproductive organs and with no clothes (or lots of padding to hid it) her body isn't even feminine (looks like a corpse body that had the bottom half ripped off)
her only lot in life is to please the dead god, anything for him.
She has gladly killed hundreds of people (elf, human, ect) just to get a "good job" from that guy.
Now, This quick post was made for this...
Salem was reading TvTropes and found "Fridge horror" which is
something desturbing you don't really think about till way after.
which made Salem think of some of her own charas, to see if i had any little fridge horrors...
and I found one with Dreschen.
It's also interesting to me so here it goes....
The wars with the dead god lasted maybe 7 years, Dreschen was made by the dead god (along with the others like her) the second year, so~ at the end of the wars she was only 6 years old. A year after the wars, when his creatures were being hunted and imprisoned, she was caught and imprisoned.
the sealing stopped her ageing and she was in some kind of hybernation...
When she is going after Rei (our 5 year old hero) she is really only like two years older than him...
She is a kid, whos FATHER sent her out to kill people, lots of them.
And all she wants is too get his approval...
Suddenly for Salem she went from Mega Bi*** to "Wow, poor thing"
And now i can see pictures in my head of her acting more like a kid XD
That's all for now Kiddies
buh bye