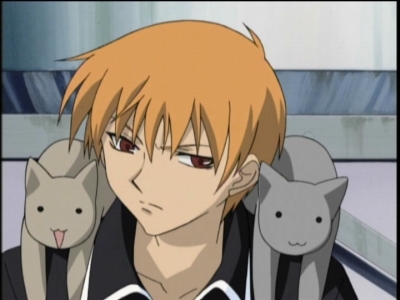 Sometimes, he envied those who was playing around him, recklessly, carelessly and yet with that broad smile on their faces, didn't even seem to care about one existance among them that was waiting to be acknowledge as one of them. Painful, that was what he thought of his life. He tried to pity himself, again and again, but no matter how hard he tried, the other twelves zodiac won't even care to take even a glance towards him especially the head of the family himself, Akito. The feeling of being shoved away, the feelings of that not being needed in the society, it was painful. What past? What history? He could care less.
As usual, on the roof top, watching towards the sky, sight-seeing the birds dancing in the air, the cloud floats softly like a cotton candy, little by bit calmed his heavy heart and stressful day. The sun was about to set soon and he knew that the existance of one person who really cared about him from the bottom of her heart, sincerely and innocently, climbing up the ladder and said, "Kyo-kun, dinner's ready." With that little enchanting smile carved on her face, who could've decline such invitation? He climbed down from the roof top where he ususally lay and went inside in to consume his dinner with everyone which was in his knowing that made him feel like a proper home for a cursed guy like him.
"Oya Kyo~ How could you let this splendid dinner runs cold? Are you trying to hurt such a beautiful maiden's heart?" Shigure on his obnoxious manner as always, teasing him.
"Mind your own bussiness dork!!!" He yelled.
"What a noisy bunch," Yuki finally uttered.
"What the- wanna pick a fight or something sissy boy?"
"Oh, I wouldn't do that if I were you," He replied back with a little sneer on his face.
"Why you!" He almost lost his temper by the time Tohru accidentally tried to stop him and literally didn't mean to hug him.
"Kya~ Kyo-kun, sorry!" She had both her hands on her head.
"Stupid~," Was what had been uttered by Yuki.
"Hmmph!" He dashed upstairs in his cat form, getting back to the roof top.
After getting all his clothes on when he finally transformed back, he lay down quietly while gazing towards the stars which was very nice and gentle that night.
"So you were here all this time," Tohru's voice somehow startled him from his day(Night?)-dream.
"What it is just you," He finally settled down from his ill-temper.
"Say, you really love high place," She said it with another of her smile.
"Uhh.. I guess so," He stared away. "Hey...."
"Ehn??" Tohru replied.
"It.. It was nothing," He finally blushed.
"Huh?" She asked.
"Thank you."
"Why?" She asked bluntly.
" Maybe for accepting me for who I am," His voice somewhat lowered down and he was still blushing.
She gave her innocent angel smile again and said, "Anytime."
That day, he was the happiest person ever lived that he knew, finally there's a person besides his sensei who was willing to accept his very existance which was not being acknowledge by anyone before. He felt as if his dark gloomy days were washed away by that just one smile of hears. He even wondered how long will he be able to enjoy that smile.
The End.