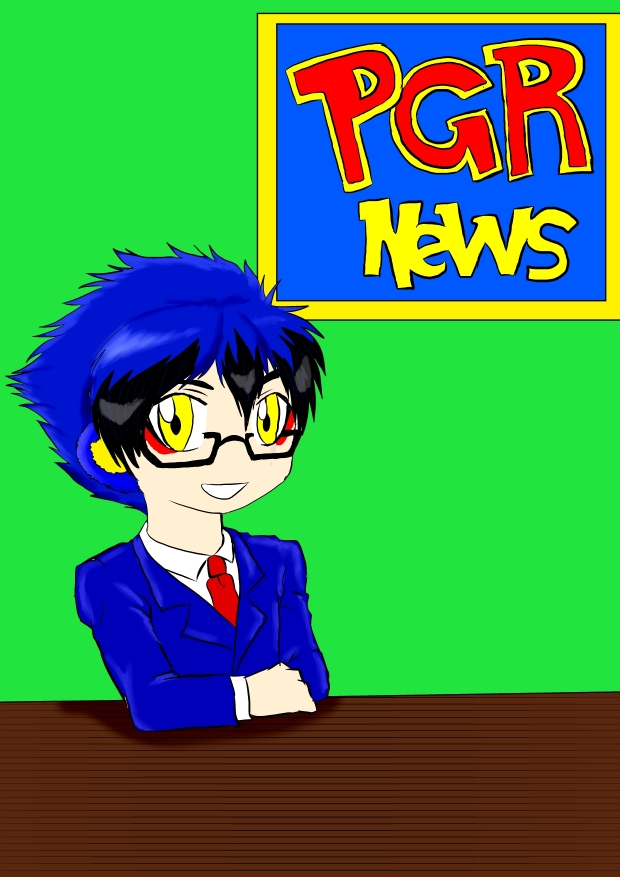 Lux: Good morning, Good Afternoon and Good evening and Good whatever the hell time it is when you read this! Been awhile since I last posted, you thought we were cancelled didn't you? Well NUH UH! *sticks tongue out* I'm too good for that! Welcome to our 7 month hiatus ending of PGR News! You demanded it, and I will surely give you ladies what you want. Today we have many important things to talk about, but first, let's meet my purrfect duo and the cat with all the moves, my co-anchor, Nyarth!
Nyarth: *perks up and acts all grown-up* Hi folks! Great to be here-nya!! We have a lot in store for you on this episode of PGR news!!
Lux: But before we start *flicks sun glasses open* Let's do this kid!
Nyarth: Yeah! Nya! *whips glasses out of pocket and flicks wrist to open them and puts them on* So you heard the meaniebutt Delin evolved-nya?!
Lux: How could I? I haven't been around to even notice apparently....I am just taking some time off from the storyline to sit with you.
Nyarth: And I'm really starting to miss you Nii-san nyaaaa! *on the brink of tears* I'm just happy that you came back to do this!
Lux: *pats his head* Damn dog, Mr. Puddles, can wait....now what's this about Delin evolving, this is important news!
Nyarth: *wipes nose* well he grew two small wings on his back that match the color of his hair... he looks like a penguin-nya! Hahah! I hear he can't fly!
Lux: What's the point of having those butterfly-like wings? Is he gathering pixie dust or something? He's not a penguin.....he's more like a platypus. Kind of dumb and a pussy!
Nyarth: *ears twitch* What's a.... 'pussy' nya? I haven't heard that word before...What does it mean Onii-san?
Lux: Ah....*scratches back of head*....it means he a weakling and is scared easily.....like this for instance....when Haxlia came up from behind him and scared him. The dolt wet him self!
Nyarth: Oh! Okay! Well then Delin really is a pussy! *laughs* PUSSY!
Lux: *mumbles to self* Estelle is going to kill me later.....*facepalm*
Nyarth: Oh! Nii-san, Shupple gave me copies of pictures she took of you and Arc dancing at the ball! *pulls them from his pocket and is thumbing through them* They look great-nya! But why are you the girl in these?
Lux: Wait, how did she get my camera? I am the one suppose to be getting people in trouble yet I am getting black mailed here. So not fair! *looks at photos* I AM NOT
Nyarth: *picks one and waves in front of Lux's nose* This one is of Arc... grabbing your butt? AHAHA!! Did it feel good-nya? I get it now! You let Estelle go because your heart was already taken! By Arc!
Lux: *turns red* Shut it! *grabs Nyarth's head and pushes it down* Just remember who I found dipping his head in the punch bowl! *points at this photo* Maybe you drink out of the toilet in your spare time eh?
Nyarth: *grows red and puffs come out of ears* That- that was just once-nya!! It was once!
Lux: Since we are on the topic of incriminating photos, did you catch all the moments of Glypth and Rai? *waves a photo at the camera* Yeah you did, like you don't want more to happen between this couple who won't admit they are a couple.
Nyarth: And what a cute couple they are-nya! The best types of couples seem to always have an unwilling victim and a playful imp! X3
Lux: Indeed, Rai, I am just curious but do you like baseball? You seem to be a good catcher! *bursts out laughing*
Nyarth: Hahaha! Speaking of sports-nya...
Lux: It has come to be known that only certain people qualify to become professional wrestlers. Not only do they need the brawns, the muscles, the short temper, and little to no brains, they have to be itching for a fight. Earlier today, WWE Raw and Smackdown have introduced Aberius as their new main event for Wrestle Mania!
Nyarth: Yes! He has entered the ring going by the title of the Hulk! Nya! Probably because of his temper right? In a few weeks there will be a showdown match between Aberius The Hulk and Luca... what was his title again?
Lux: *roars in a deep voice* ABERIUS SMASH! SMASH SMASH! DURRRRRR!!! I can see it now, Aberius getting bigger muscles and turning into a big green monster version of himself. Though he already does this, green is a nice touch! *grins*
Nyarth: Oh wow! I could totally see that too! *wags tail*
Lux: *pushes glasses back up* Now we are moving on to this week's weather forecast, Nyarth...
Nyarth: Indeed! *fixes glasses too* I've been seeing at least two new ghost-type gijinkas around the mansion lately-nya... and something tells me they're plotting something. The skies have been dark lately... *shivers*
Glyph: *suddenly kicks down the radio office door and bursts into the room*
Lux: What the??? *eyes widen* Really?
Glyph: Allow me~ to explain the weather lately! This must be done by a certified individual.
Lux: *waves hand* Alright go ahead.....since when were you certified? Who ever said we needed that crap?
Glyph: Oh, haven't you seen the television? They always have attractive women or... *starts shrugging off his shirt and gazes seductively into the camera* Attractive men announce the upcoming atmospheric changes. I will do the honors here… *starts undressing*
Nyarth: I- Glyph? I didn't know you were a guest star here! *looks at Lux* You didn't tell me Onii-san-nya!
Lux: *jaw drops* What in bloody hell is he doing? *covers Nyarth's eyes*
Nyarth: *sweatdrops* well if it's the rules-nya... *gulps awkwardly*
Glyph: With the coming of spring comes warmer weather! Time for the girls to get into their bikinis and the guys should start Speedo-ing it up! *wiggles eyebrows* I know of a few people we'd all love to see in a Speedo...
Lux: I think I am going to vomit…*sour look*
Glyph: Rai-rai you would look good in a speedo! *tosses pants to the side and poses in his speedo* We will be perfect for the summer hot weather, and we shall be hot~
Lux: OKAY! *grabs Glyph and tosses him out a window* Enough of the weather! Yup the sun is shining and its getting hot! Good enough for me!
Nyarth: Time for a beach trip, right Nii-san? That would be so much fun!! *cheers*
Lux: Yeah that would be- *hears panting*....gah come on....*looks at the flower pot* What are you panting about Tanner?!?!
Tanner: Ah...nothing in particular....
Lux: *lifts eyebrow and smirks* Oh I see, with Glyph taking his clothes off that got your roots to extend....do you need a little water to ease the excitement?
Tanner: NO!! Not that!! *wiggles in flower pot*
Lux: Nyarth!!! Water him please *points sinisterly*
Nyarth: Right on it! *jumps up and grabs a bucket from off screen and heaves it over Tanner's head*…Feel better-nya? :3
Tanner: ...... *death glares* I-is it yellow?
Lux: I wonder...*chuckles*
Nyarth: It's not yellow! It's orange! It's orange juice-nya! It is healthy, I thought it would be a good idea to water you with!
Tanner: *sigh of relief*…thanks….
Nyarth: *catches a drop off of Tanner's hair on his finger and licks it* Yum!
Lux: Moving on, to latest relationships. Are Delin and Damaris breaking up? Maria and Patrick finally made out, and what about Kiki and Xio? All this and more after the commercial break!
-Commercial Break-
Beware of Dirty language
-Back to the News-
Nyarth: Welcome back-nya! We have lots more in store for everyone!
Lux: *fixing his hair while holding up a mirror and isn't paying attention*
Nyarth: *notices and tugs on Lux's sleeve and whispers loudly* Nii-san! We're on air!
Lux; *blinks* Oh! OH???? *tosses mirror behind him with nervous smile* Welcome back folks!
Nyarth: Lately there have been many blossoming relationships because of the recent Christmas ball! *winks and elbows Lux* In fact we saw two certain young people kissing under the mistletoe-nya~!
Lux: *shivers* Yes indeed, one was sweet and innocent and the other was violating some manly rights...
Nyarth: Yeah!! What was up with Glyph and Rai-kun kissing, huh? Are they a couple now? Nii-san, which one is the girl? They seem to always be hanging out.
Lux: *rests chin on hand* I think you can kinda figure that out on your own sport....besides...if I say what I think a certain someone *cough* Toyo *cough* will get me back....sooooo I have no comment! *smiles*
Nyarth: Oh so you mean that Rai is the girl then? I should call him Rai-chan now!
Lux: *falls off chair laughing*
Nyarth: What-nya? What did I say?
Lux: *lifts up a picture of Glyph and Rai kissing as Glyph careasses Rai's leg....*
Nyarth: Ooh! *peers closely at the photograph* They seem to be really happy with each other! X3 …..I hope their relationship goes well-nya. :3 Maybe they will have beautiful children together.
Lux: *banging hand on table laughing*
Nyarth: Pull yourself together. *smiles*
Lux: *adjusts self and sits back down* We also have the hopeless feline Patrick starting to FINALLY make his move on the ditzy mouse, Maria. A slow couple like them is meant to be! Young dumb bliss!
Nyarth: Yes! We felines always get the babes! *adjusts sunglasses with a smirk* Right Onii-san?
Lux: *sighs and turns away* Yes some more then others....but you are single..
Nyarth:....*ears twitch and smirk falters for a bit* That is true-nya... *he flashes a smile and whips off the glasses, gazing charismatically into the camera* ...but I'm sure many gijinkas want a piece of this-nya! How could you not?! *winks and puts glasses back on* Besides, I'm waiting for a special someone to come along-nya!
Lux: *snickers* You've been watching too much Jersey Shore Nyarth...
Nyarth: What's that? I learned that from you Onii-san!! :D
Lux: The hell you did!!! *wide grin* That a boy!!!
Nyarth: *grins proudly* I figured if I took a leaf from your book, I would become irresistible!
Lux: *tossses glass off and gets on the table and sexually poses at the camera and pointing at it* Hey girls! This is crazy.... *blows on camera and gets it steamy and begins writing a number on it* So here's my number, call me maybe? *smiles*
Nyarth: *just laughs*
Lux: *gets back down* Alright moving on to the latest concerts. Its official this Saturday tickets go on sale for Mony Maura, who is now on tour. She hopes to have a sell out concert.
Nyarth: *looks terrified, wide-eyed and pale* W-wait... Maura? Was that the Mawile who... sang at the ball? *frantically whispers to Lux* But she sang horribly! It made my ears hurt bad-nya!!! I don't think ANYONE will want to go to that concert!!
Lux: Yeah....*cleans out ear* That would be her. My prediction is if she sells even 10 tickets she would be doing well unless she has a bunch of Mr. Mime, Voltorbs, Loudreds or any other sound proof gjinkas....nevermind, her new bitch Hon would go! Out of the two of them, she surely is more manlier then him! *chuckles* Maybe she will make him howl!!!
Nyarth: *gets up on the chair squatting and howls at the celing*
Lux: *crosses arms* Not bad not bad at all! *is highly amused* Now do a Miltank!
Nyarth: *is happy at the praise and gets on all fours, lays his ears down, puffs out his cheeks and uses his fingers as little horns on his head* MMRRRRROOOOOOOOOOOOO!
Lux: *is recording this for Gijinka's Funniest Home Videos* Hahahahahaha! *shakes head* Now do a Haxorus!
Nyarth: Oh!! Easy!! *jumps down onto the floor, plants feet wide apart and squats a little, brings his elbows in to his sides and curls three fingers of each hand like claws* GRRAAWWWRRRR!!!! *throws his head back and lashes his tail as he roars*
Lux: Not bad but that isn't right Nyarth....I'll show you how its done!! *grins*
Nyarth: *smiles as he climbs back in his chair and watches Lux* Think you can do it better-nya??
Lux: I know I can do this better....*undoes shirt and fligs it open and undoes pants a bit and sexually sits on the table* This is a Haxorus....*makes a girly voice and moans* Come and get me boys! *licks lips* Oh Luca....
Nyarth: HAHA you are mimicking Haxlia-chan right?? That's perfect!!
Lux: *still girly voice and does the hair swoosh* Oh yes!!! *spreads legs and does a sexy wiggle on the desk* Throw some money in the air! Or put it down my skirt! Does not matter boys!!!
Nyarth: Then who is this-nya?? *flaps arms futilely, hopping around* I have wings but I can't fly!! *has another idea* Oh! And I think I'm FAAAA-bulous!~
Lux: *snorts* Delin of course! *grabs two melons and sticks them under his shirt and holds them up with hands* LUCA LUCA!!! Do you like my melons?!?! *chases after Nyarth*
Nyarth: *with a flourish he has pulled his hair over the sunglasses and assumed a serious expression, and turns to Lux and peers at the melons* Hm yes those are very nice... *licks lips*
Lux: *melons drop to the floor* Hmm you pretending to be Luca freaks me out.....*fixes self up* We should move on to politics...*goes back to chair*
Nyarth: *giggles and sits back down and adjusts hair and glasses* Okay, well how are the recent elections for the new gijinka leader of the mansion going? I believe since Lupe's been gone to who-knows-where, we need someone else to step up in her place...
Lux: My vote is for Estelle....she needs to do all the dirty work! She is pretty, smart, and has a nice firm ass- I mean grip on everyone in the club.
Nyarth: I think it should be me! *looks into the camera* if I am elected, I promise that there will be cake and cookies for everyone-nya!
Lux: Good grief....such a child still....*rolls eyes*....but I guess it would be better then Xio...
Nyarth: *shudders* Oh, Xio would be a scary ruler... Though I think everyone would listen to him because we're afraid of being eaten!!
Lux: More then you know....Well if he was at least he would have Kiki at his side....that's a new relationship....I give'm a week tops!
Nyarth: Well maybe since Kiki is with him, she can tame the beast!
Lux: Do you honestly think she is a belle that can do that?
Nyarth: she is pretty! All she needs to do is kiss him right? And then he will transform into a nice-looking Luxray instead of his tall dark scary self!
Lux: I think she has kissed him plenty....and he's still the same old dark, rude, and criminalistic behavior remains
Nyarth: ....then... there is no hope for him... *shivers*
Lux: He is hople- *gets shocked by lightning*
Xio: What's this about me being a beast?? *walks into the studio*
Lux: Ah shit! *wide eyes*
Nyarth: X-Xio-san-nya!! I didn't know y-you were here-nya!! *dives under the desk*
Lux: *points at Tanner* It was him...
Tanner: O___O' No seriously it wasn't!
Nyarth: *from under the desk* Yeah!! Tanner said it!!
Xio: *eyes narrow* Come here houseplant! *grabs Tanner and leaves*
Tanner: GUYS HELP ME!!!
Nyarth: No way-nya!! I'm not coming out from under here!
Lux: *waves* Good luck, use the power of the Roland!
Nyarth: Ho all Mr. Hyde and turn into Roland!!
Lux: *watches at the door slams then whips sweat away* He's gone...
Nyarth: *hesitantly comes back out* He's gone?
Lux: *nods* He is....*shivers a bit*....
Nyarth: *scrambles back into his chair* well then-nya! What's left on our agenda?
Lux: This just in, a wanted criminal has broken out of prison and is on the run from the law. Arc, the Arcanine moments ago used a flamethrower on the bars and melted them down to nothing. It appears now that the fire dog from hell, is on the run from top Pokemon officials. Officer Jenny stated that he will be brought down by all means possible. Arc was imprisoned for bad sense of humor, constant licking his basement, always digging bones up, and not wanting to play fetch. His wife, Shupple and his two children Mist and Chandancy have no comments. Though how he has children like this is beyond me? My god that Mist has big ta-tas for her age and Chandancy has no dog like features either so I think that Shupple may have lied about him being the father.....what's this? He isn't the father? Well.....dammmmmmnnnn no wonder he broke out of the pen! He's going to kill her for cheating!
Nyarth: *spittakes*
Lux: *nods nods* I see....it appears his just got out of the dog house because they have many fleas....enough said.
Nyarth: *nods* he will soon be brought to justice!
Lux: Indeed he shall! Well that concludes tonights programming of PGR News! I want to thank you all for tuning in today! Also lets put our paws together for such a wonderful co host, Nyarth!
Nyarth: *removes glasses and waves* Thank you, thank you, you're too kind-nya! I enjoyed it!!
Lux: *gives Nyarth a nuggie* It wa a pleasure having you sport!
Nyarth: Onii-chan, are you glad I came?
Lux: *deadpans* …
Nyarth: *tilts head* Well, are you glad I came?
Lux: Do you realize what you just said? *facepalm*
Nyarth: Well if you came I would be happy.
Lux: *head desks*
Nyarth: What?
Lux: Hahaha nothing, I will tell you when you are older! *waves to the crowd* Good night and so long! Until next time with my next host, who will that be? Just wait!
Nyarth: Goodnight everybody!
-End-
Disclaimer: PGR News is not responsible for not accurately roleplaying your characters. However, they do take credit for making fun of your characters and enjoy doing so in the process. To all new members, do not take a offense because this is merely for fun and giggles. If you character was not included, PGR News states that your character did not play a big role in the storyline. All issues among the news cast are from events from the plot and may have been twisted due to technical reasons. We will take responsibility for making you laugh out loud, however, we will not take responsibility for you wetting your pants in the process, blame you bladder. PGR News is created by roleplayers for roleplayers!