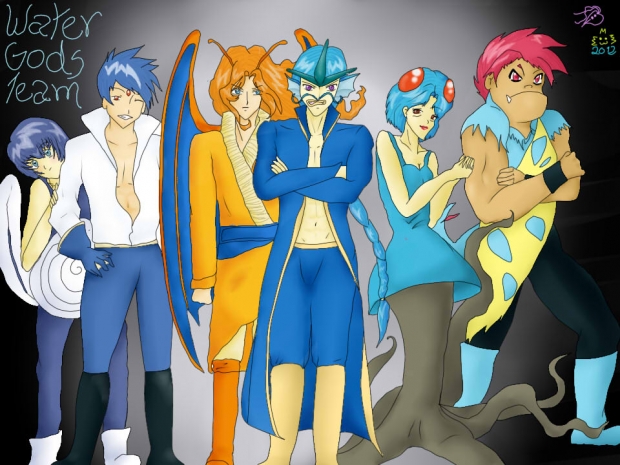 ATTENTION PGR MEMBERS: CONFUSED AND NON-CONFUSED ALIKE
ALL OF YOU BETTER READ EVERY SINGLE WORD OF THIS POST SO THAT YOU KNOW WHAT WE'RE DEALING WITH IN THIS PLOT. IF YOU DON'T READ THIS, I CAN'T BE BLAMED FOR ANY EXCUSE OF "I don't know what's going on!!", OKAY YOU MAGGOTS?!??!
(The capslock is just to make some stuff stand out as very important, I am in no way mad at anyone. XDDD)
I know many people are slightly unsure try MAJORLY CONFUSED LOL about what's going on with the war coming up. So I'm here to explain exactly what is going to happen. I did a LOT of research for this plot, to try and cover every aspect of this as possible! I have tons of reference pictures for everyone to use when they are writing their posts. I want this plot to be a fun experience, and it can only be so if everyone is familiar with what is happening, right?? RIGHT!
We will be on a tighter schedule than we usually are with plots! This time we actually have some objectives that need to happen!! So here's a summary of the cause of the plot, major events that will happen, and some ideas to get y'all going :3
Background Synopsis
There is a group of elite water Pokemon gijinkas, who call themselves the 'Water Gods', who have joined forces to flood the earth, and kill every human, every Pokemon, every gijinka who is not a water type. They believe that the strongest and most superior element is Water, and that water should rule over all. (If you're familiar with Team Aqua, the water 'gods' are similar in their goals, however I don't think they have any plans to awaken the great Kyogre.)
**CLICK HERE TO READ A BRIEF PROFILE OF EACH OF THE MAJOR WATER GODS**
The Water Gods' current plan of action has been to survey the surroundings, and take hostage any other water-type gijinkas they find. They use one of their members' psychic powers to give the water-types amnesia, wiping the memory of their pasts clean, and train them to be loyal to the Water Gods, to aid them in flooding the world. One certain gijinka they have recruited is none other than Drake the Dragonite, who happens to be Damaris' dear brother. Sadly, his past in his mind has been erased, so he does not remember any of his childhood with Damaris.
Damaris has gathered from various sources that her brother is working alongside these Water Gods, but she intends to find where they are keeping him and convince him to switch sides. The Water Gods know that she is looking for her brother, however, and are not happy about it. So, one day they attack her when the lights in the mansion go out, and bring her to their mobile submarine base, which is docked somewhere on the shores of the island of Sinnoh. (If anyone didn't know, the mansion is somewhere in the Sinnoh region. We're not totally sure where yet. It doesn't matter right now though.)
When she awakens on board the ship, Drake and another water gijinka, Geo the Golduck, are in the cell with her. They hastily explain that they realize what Gorfrey is doing is bad. They know that the other water gijinkas have had their memories erased and forced to side with the bad guys. They have been creating a secret rebellion group on board the base, and they plan to stop Gorfrey (the leader) together.
Gorfrey's plan is to create an enormous circular tsunami radiating from the Water Gods' HQ on Navel Rock that will cover the earth with water. Once he gathers enough powerful water Pokemon gijinka, they will all stand in a circle on the island and simultaneously use Surf, which will create the huge tsunami. With the threat of the biggest attack Gorfrey is planning looming in the near distance, the gijinkas back at the mansion have been preparing, training to be in the best shape they can be to defeat the Water Gods. This is where we are at the current moment.
The opposing forces are almost strong enough to make the tsunami. Some of the main Water Gods team have now traveled from the submarine base to their Headquarters on Navel Rock to prepare for the tsunami. Gorfrey, Tessalia, and Crunch as well as other STRONG unnamed water Pokemon gijinkas are now at the HQ. The main gijinkas left on the submarine are Damaris, Drake, Geo, and Po, as well as numerous WEAKER water Pokemon gijinkas.
Here is a map of the Pokemon regions and where they all might be in respect to each other. I have put a square around Navel Rock and enlarged it so you can see it. As you can see the submarine is right outside Sinnoh, and Navel Rock is about smack-dab in the middle of everything, which would be a great vantage point for a worldwide attack.
HERE IS OUR PLAN OF ATTACK.
Our first and foremost objective is to rescue Damaris. We are going to let Delin be the one mainly associated with her capture. Remember, the gijinkas at the mansion have no idea that there is a resistance force on board the submarine! So if you run into the friendly gijinkas on the ship... you might want to have your gijinka be hostile toward them at first, and then have the water Pokemon explain that they're on OUR side. So what we are going to do first is to move in on a surprise attack on the submarine. The Water Gods do not know that we are planning to attack them. We can use this as an advantage!
***HERE ARE SOME REFERENCE PICTURES OF THE INTERIORS OF SUBMARINES. PLEASE PLEASE USE THESE AS REFERENCE WHEN YOU ARE WRITING YOUR POSTS.***
A basic overview of the interior, with walking space and the engines at the back
A close-up of how small the interior is
A close-up of how small the sleeping and eating spaces are, very detailed!!
As you can see, submarines are very compact and small. There will NOT be much room to maneuver and do large scale attacks. The space from the floor to the ceiling is sometimes no more than 8 feet tall. Ewan, that means you might have to crouch sometimes. The sub we will be attacking will have three floors to it:
The top floor has the control and sonar room and the attack station (where they program the torpedos). The captain would operate the sub from here.
The middle floor has the living spaces: the beds, the mess halls, the bathrooms.
The bottom floor has a big area where the gijinkas have been training, as well as a few more engines.

Because of damage control, typical submarines usually have over 150 crew members on board at a time. However, I know that's a pretty huge number for us to tackle. Instead, we're just going to say that there are maybe 20-30 water gijinkas on board. FEEL FREE TO DESIGN YOUR OWN POKEMON GIJINKAS TO FIGHT. The 6 gijinkas that Jouan drew are NOT THE ONLY ONES WE HAVE TO FIGHT. For your convenience, here is a list of all Pokemon that are part-water type.

Oh, okay! Awesome! Let's just destroy everything!! HERE IS THE PROBLEM. The submarine is the only way to get to the Water Gods' HQ. None of us at the mansion know how to operate a submarine, however. There may be a gijinka on board the submarine who DOES, though. So...

Our second target is to take over the submarine WITHOUT damaging it. We need this thing to be in good condition so that it can carry all of us to Navel Rock. We need to kill, knock out, or otherwise incapacitate the water gijinkas on board the ship, and find some gijinka who can take us to the island. Maybe Drake or Geo know of someone.

I know that not every gijinka in our group is fond of killing people. We do not have to kill everyone involved. However, if we simply tie them up, they might escape later and try to flood the world again. We need to find a way to permanently stop them from thinking this is a good idea!! What would be some ways we could do this? (I have quite a few ideas but I want people to think of them on their own.)

Now, what I want everyone to do is BE CREATIVE!!! Think about ways that your gijinka can team up with a certain gijinka to make a great team. This means I don't want the usual people teaming up together. When we board the sub, we should all split up into groups to tackle the different floors of the submarine. If you hang out with someone a lot at the mansion, this is the time to see how you work with other gijinkas. I suggest you think about some of these possible pairings:
Together, Kiki's and Estelle's psychic powers would be almost unstoppable.
Zane and Nyarth are both very silent and stealthy, and would avoid detection.
Patrick is good at navigating in the dark, and Mist and Chandacy are creatures of the shadows. They could team up.
Maura, Hideki, and Lupe are very skilled at hand-to-hand combat and could become a great first offense.

From there we will ride the submarine to the headquarters on Navel Rock, where Gorfrey and the rest will be waiting. By now, they will know that we are coming, and they will be ready to fight us. This should be where we put our best foot forward. Haxlia, Xio, Krory, any of our strongest gijinkas can be our main offense.

After the inevitable huge showdown at the island, our job should be done. We have successfully stopped Gorfrey and his minions from creating a world where only water types could live. Now all Pokemon and gijinkas can live in harmony, without any other threat....... or can they. Plot twists can happen at any given moment, folks. You will do well to remember that. *ominous music*

Okay, y'all!! That's the basis of what's going to go down in this plot!!! If you have any other questions about anything, comment below!! Also if anyone has any creative ideas, comment below!! My post for Nyarth, Afton's posts, and Anime's posts will signify the beginning of OUR NEW PLOT!!!!

What I need everyone to do is to make their character's last post before the war!! You need to have the character reflect on their training they have been going through for the last 6 months, and maybe touch on their feelings about the war. Think about these questions:
How will they handle the incoming challenges?
Are they reluctant to be pulled into battle?
It's okay to have them freak out about going to war, and think about just abandoning the mansion and going home. Fear and doubt happens to the best of us.
Are there any skills or moves they wish they had more time to perfect or develop?
Is there anything that they are excited about dealing with the battles coming? Are they eager to prove their worth? Do they have a particular someone they want to protect?

GOOD LUCK AND HAVE FUN!!!!!