THERE ARE SO MANY BANDS AND SOLO ARTIST OUT THERE WHO PUT THEIR MUSIC OUT THERE AND AS I WAS DISCUSSING WITH MY COUSIN AND FELLOW OTAKU MATE BELOVED BLOOD, WE FOUND THAT MUSIC IS BASED ON THE TREND NOT THE ACTUAL MESSAGE OR TALENT. EVERYONE WANTS TO COPY EVERYONE AND FOLLOW THE TREND. I WOULD LOVE TO KNOW FROM YOU GUYS WHAT BANDS OR SINGERS DO YOU THINK ARE WAY BEYOND THE TREND-HOW ARE THEY THE "ABNORMALITY", HOW ARE THEY DIFFERENT FROM MOST ARTISTS OUT THERE? IT WOULD BE GREAT TO HEAR FROM ANYONE WHO FEELS THE WAY I FEEL. FOR ME THERE ARE A FEW BANDS OUT THERE THAT I THINK STAY AWAY FROM WHAT I LIKE TO CALL "THE TRENDY CROWD"
THERE IS THE BIRTHDAY MASSACRE: UNIQUE WITH THEIR STYLE AND SOUND AND HAVE SONGS THAT MEAN SOMETHING WITH A GREAT SINGER TO DISH IT OUT.
THEN THERE MY FAVORITE BAND THAT I LOVE BEYOND LOVE. THEY ARE DEFINITELY UNIQUE AND THEIR SOUND EXCEEDS WAY BEYOND "TRENDY". THEY FOLLOW THEIR OWN TREND. THAT IS LACUNA COIL FROM ITALY
ANOTHER GREAT BAND TO ME WOULD BE CHEVELLE. THEY ARE AWESOME AND STICK TO WHO THEY ARE AND NOTHING ELSE.
Another band I admire quite a lot (and they are hot) is a Finnish Band called Apocalyptica. They are unique in the fact that they play cello with a drummer. They definitely exceed past the trend of today's music and follow their own path. This is the kind of music I can get behind.
Well that's it guys for Today's post. Leave comments and Thoughts. I want to know what you're thinking; how you feel. Take care
Until Next time...
This is Vampy Phantom Signing Off...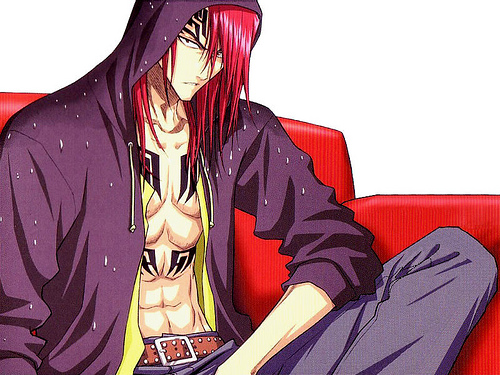 (Because I love Renji!! Ta Ta For Now!)