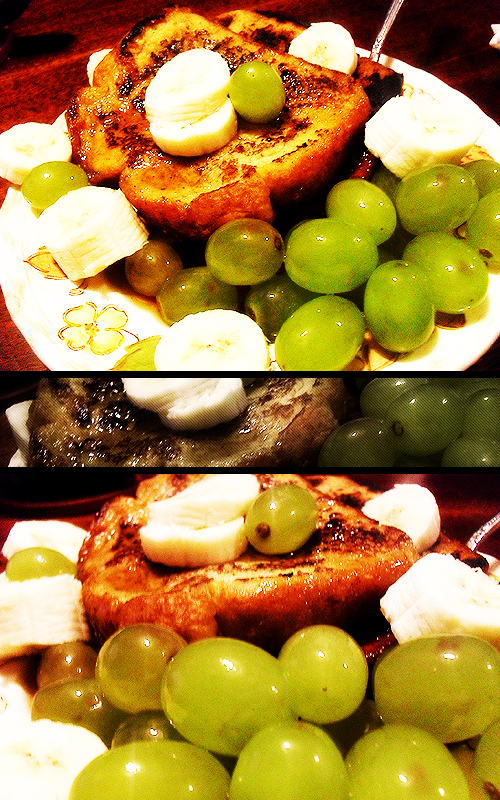 This is my own image how my buttermilk French toast turned out, though I did drown it with grapes and bananas. X) It was one tasty breakfast though.
Thanks Anna for allowing me to guest post. :)
One of the things I enjoy doing is cooking. I'm not a professional at it, but I love experimenting. :D
A few mornings ago I had a strong taste for some French Toast. How I use to make it felt like it was missing something so I wanted to try out something different and found many different recipes...only problem was I didn't have most of the ingredients so I thought about the things I do have in the house and started searching up recipes from those ingredients like buttermilk. :D I ran into this recipe on Epicurious.
Now I must warn I don't personally follow recipes exactly so I'm not 100% sure if following this recipe to a T will be good. So I'll try to add the little things I did. When I cook I mostly go by feeling than exact measurements so yeah...just putting that out there...
:Buttermilk French Toast Recipe:
Random Note: Also since I didn't want to cook 12 slices I cut all ingredients in half. XD
Ingredients
-1 1/2 cups well-shaken buttermilk
-4 large eggs
-3 tablespoons sugar
-1/4 teaspoon salt
-12 (1/2-inch-thick) slices challah (from a 1-pound loaf; not end slices)
-4 1/2 tablespoons unsalted butter, divided
Extra Added Ingredients Personally: Cinnamon & vanilla to a taste.
Ingredients Replacement: Instead of using slices of challah, I actually used honey wheat bread which was already slice. Just that normal honey wheat you get from the grocery store. To be more specific Sara Lee's Honey Wheat Bread. lol Though yesterday morning I actually used store brand white bread. <.<; So I think any bread can do really probably can use a healthier choice.
Instructions
Preheat oven to 200°F.
Whisk together buttermilk, eggs, sugar, and salt in a bowl. Pour into a large 4-sided sheet pan, then add bread in 1 layer and soak, turning occasionally, until bread has absorbed all liquid but is not falling apart, about 20 minutes.
Heat 1 1/2 tablespoon butter in a 12-inch nonstick skillet over medium-high heat until foam subsides. Transfer 4 bread slices with a slotted spatula to skillet and cook, turning once, until slightly puffed and golden brown, about 3 minutes total. Transfer to a large shallow baking pan and keep warm in oven. Cook remaining bread in 2 batches, adding 1 1/2 tablespoon butter between batches.
Slight changed: The second time I cooked this, instead of using butter in the skillet I actually substitute it with vegetable oil that I spread and covered the surface with a napkin. I thought it was easier to cook with than butter and doesn't burn as easily (I'm horrible with butter in a skillet for some reason unless I'm cooking a grilled cheese sandwich)...I mean that is what I did, but I'm sure butter works well too or any margarine probably. :) Like I said I love experimenting. - I also don't have a 12-inch skillet so I had to make do with skillets I do have. XD
Result
Well, *points to the picture* that's my result which was the first time I cooked it with the butter. The second time it was more brown than that black because like I said I'm horrible with butter in a skillet, I think I probably just had the skillet to hot so the butter burned a bit quickly or maybe I just left it there too long, but overall it was awesome. :D I drowned it with fruits too which made it more amazing, but my teeth will probably punish me later with all that natural sugar then the sugar in the toast and the syrup. XD lol I actually wanted to make this apple topping my older brother taught me, but we didn't have any brown sugar. So maybe next time when there is brown sugar I can post about that. :)
Another random note, for some reason...when the French toast is cooled or cold to the point of reheating so you reheat it, it tastes better than when it's fresh off the stove. XD I don't know why. <.<; Maybe it's another weird personal thing. XD
Does certain foods taste better to you after you reheat it? XD
Have a nice day. :)