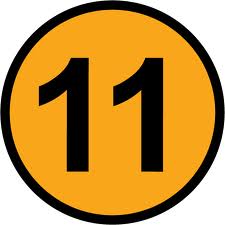 Why it seems there is something about number 11? Some people noticed it so I noticed it too. Yeah! I remember then some events that concerns with that date. The 2 most unforgettable events that alarmed the whole world!
September 11, 2001 – World Trade Center or the 9/11 attack
March 11, 2011 – Disaster in Japan: Earthquake & Tsunami
The 9/11 attack gave us scare of the terrorists. Back then, I was so frightened that maybe a bomb suicide was just next to me. Oh my! Bombs seem everywhere! Explode here, explode there! In every public places, there was always a threat of bomb!
Then after a decade, another 'scare' is threatening us. Earthquakes!
Oh my! Whether it's a man-made disaster or nature's attack, I realized that there's no more safe place in this world!
What happened to Japan only proved us that no matter how progressive or powerful a country is, you can't fight off nature. Nature can swipe off everything on this earth... if people continue to neglect "Her"
Have you noticed the effect of climate change? But then, I don't believe God was angry to Japan. Oh c'mon! I know Japanese people love nature & they're taking care of it. It can be seen on their place, right? And no wonder why Japan considered as one of the most beautiful places in the world. A blend of traditional & modern style... A place of nature & future... Wow!
In Philippine history, there was a dictator president who ruled the country for 20 years. He declared martial law & People Power Revolution started off. After that, our country became democratic. But what's the connection of this to my topic? That dictator was born September 11.
Hmmm... I wonder, could I be a threat too? Hahaha! Oh man! It just happened that I was born in the same date! September 11! Yup! September 11, 1989...