Whaaaaaa!!! I'm studying for my Chemistry class test I took the lab final on Thursday...... Eek!! I think it went awful!!! I'm so AFRAID!!! Plus I just realized there's a lot to still review from the one I next Thursday!!! Not only that but I have a Physics test on Tuesday and other tests!!!! It's like my life is made of tests!!! Blaugh!!!! But I must blog about the Chem lab for a second here!!! I'm so nervous!!! But I just wanna post these images to illustrate the fun I had this semester at the lab that is completely over 'till next semester and for that I am a tad grateful. Only because I need time. During the last lab I broke a test tube!! It was crazy!!! Plus embarassing!!!!!
And now US!!!!!!!!! One of my lab partners and me!!! She was the star of the show!!! She was so funny!!! She had a pet lizard!!!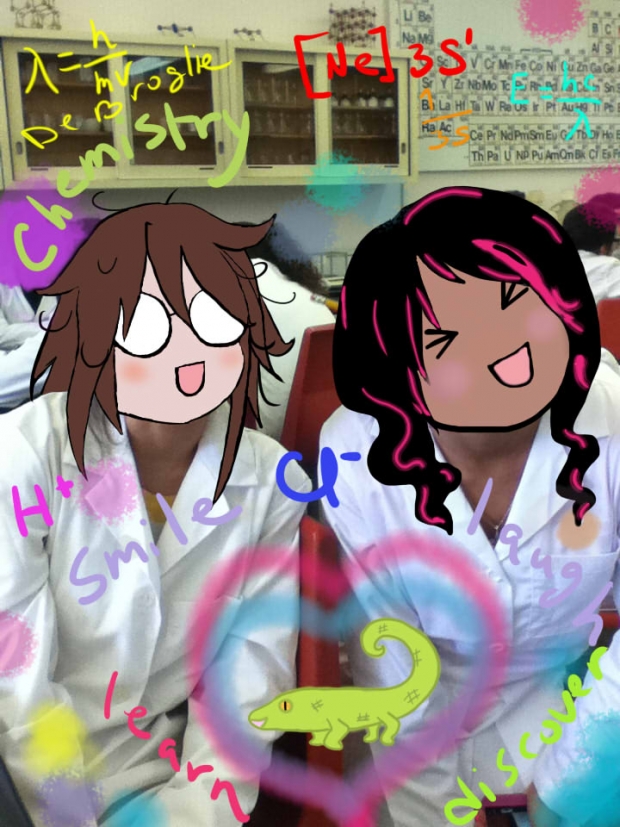 This song is sooo girly but fun! The only reason why I played it the first time was because of the title. But it's actually a good song. The guy has a cool voice!
Electric current of different compounds!
Percent Yield! Quite a disaster! The % was supposed to be less than 100 and we got 300%........ Still fun!!!
Precipitation, Acid-Base and Gas-Evolution Reactions!!!
Titration!!!