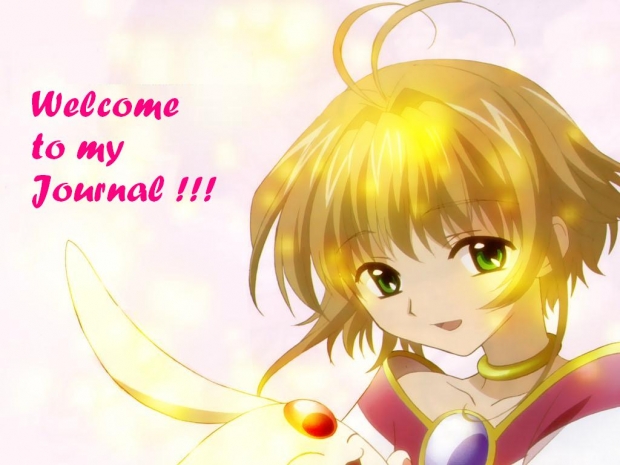 Hello, everyone! welcome to my personal blog! first, my introductions...
BASIC INFORMATION
MY NAME: you can call me twinkle or sakura, your choice
BIRTHDAY: 13 february so don't ever betray me, i'll haunt every friday, the 13nth......... ha ha!
PERSONAL INFORMATION
MY NON-ANIME INTERESTS: i love doing what no one usually does. it sounds crazy coming from me (at least to someone who knows me) but hey, guess you don't know me that much! i love writing novels, sad, romantic, terror... you name it. i love the unbeaten path, the path no one has taken because then it'll be me... specially laid out just for me! I'm amazed at the cosmos. it fascinates me so much when i look up into the night sky and find millions of stars smiling at me. if i ever go to Arizona the first place I'll visit is the famous "Milky way" truly, all you Arizona people must be so proud.... i'd love to tell more but this must be enough to decide if i can be your good friend for all times.
ANIME INTRESTS:
(a week before) I loooooove cardcaptor sakura and naruto! they are the best anime's i have ever seen in my entire life! i want to grow up to create amazing characters just like them! it's so nice. naruto is the best... i love naruto for his undying courage and sasuke, well, i just plain love him. in CCS, shaoran is so cute when he blushes! i've never seen a guy all so shy and blushy in my entire life! oh, i just looooooove anime!
(2 days before) OMG! OMG! how could the dimension witch do taht? what the (censored) (censored) hell will she do with their relationship? what the damn hell will she do with syaoran's relationship with sakura. after all syaoran does for her, sakura will never remember her love for syaoran.... i feel so... ugh! tsubasa chronicles is THE BEST ANIME EVER! there can be nothing better than it! i cried so much when she asked, "who are you?" like.... oh man, the world is too cruel i tell you.
FAVORITE MUSIC: Avril lavigne rocks! expecially her songs like "daydream", "hot", "slipped away", "nobody's home" etc... she truly is my star! Westlife... my love! i just love this band! expecially the songs from their classic album... i mean songs like, "world of our own" "i lay my love on you" etc... and how can i forget enrique iglesias? hero, she be the one, escape... i could go on anad on... and ofcourse, other variable songs that i like are "White flag" by dido, "close to me" by the band 5, everytime we touch and i can't stand it, both by cascada, hurt by christina aguilera, my immortal and missing by evanescence.... i love music... this list can't end..
i would write more, but i think that's enough for now eh?